How peaceful it is to take an evening walk along Grand Avenue in Mancos, a little community of fourteen hundred people, nestled in the Mancos Valley of southwest Colorado! The sunset's glow is reflected off the La Plata Mountains to the east, and shadows begin to shroud Mesa Verde in the west.
There's not a lot of traffic on Grand, unless there's something happening at the high school (the oldest in Colorado). The twilight stroll might include scratching the ears of a friendly dog, chatting briefly with neighbors, and waving at friends driving by. The drivers might even stop in the street, roll down their windows, and say "Howdy!" After all, this is Mancos, "Where the West still lives!"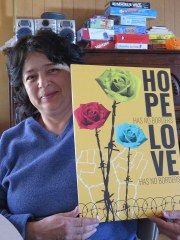 Rosa's sanctuary in the Mancos United Methodist Church is the intersection of two stories – Rosa's life and the church's life. Neighborliness has a lot to do with it, too.
Rosa was born in Veracruz, Mexico, in 1964. At the age of twenty-three, she moved to the U.S. with her mother, who eventually became a U.S. citizen. They lived in Cortez, Colorado, eighteen miles west of Mancos. During her three decades in Cortez, Rosa has worked at the casino, at H&R Block, at the local Catholic church as its secretary, and has made and sold countless very popular tamales in the community.
The entire history of Rosa's contacts with immigration authorities during those years could fill several volumes. Her attorney, Jennifer Kain-Rios, has compiled a four-page summary of Rosa's thirty years of contacts with ICE officials in Phoenix, Los Angeles, Denver, and Durango. During the last five years alone, Rosa estimates she has paid $1,000 annually in fees related to her "Stay of Removal" applications, about $2,500 annually in attorney's fees, and she has lost a full day's pay every three months while traveling to Durango to meet with ICE.
Rosa's present immigration status is complicated. As Kain-Rios explains, "Rosa is still waiting for the opportunity to become a Lawful Permanent Resident, based on the approved I-130 Petition filed by her mother Blanca in July 2001. Rosa is now classified in the Family Based Preference Category 1, as the adult unmarried daughter of a U.S. citizen, because her mother is now a U.S. citizen. . . Based on the limited number of visas set by Congress for each immigrant category and the number of petitions ahead of her, it will still be many years before Rosa will be able to apply for lawful permanent residence based on her mother's petition for her." The mills of the immigration gods grind slowly – and they chew up human dignity in the process.
Rosa has paid taxes in the U.S. for thirty years and has never run afoul of the law. She is a good neighbor. Her mother, now in poor health, relies on Rosa increasingly. What are Rosa's goals in life? "I want to work and live my life more. . . I haven't been able to enjoy life" due to the ever-present reins of the immigration authorities.
The U.S. immigration situation, already badly dysfunctional for decades, changed drastically with the inauguration of President Donald J. Trump. On January 25, 2017, Trump issued an executive order in fulfillment of anti-immigrant promises made during his campaign. This executive order, "Enhancing Public Safety in the Interior of the United States" (E.O. 13768), initiated a dragnet to identify, apprehend, detain, and deport all eleven million undocumented persons within the United States. The order also called for ten thousand more ICE agents. A companion order called for five thousand more Border Patrol agents and the building of a wall along the southern border of the United States. In making these orders, Trump stated, "Many aliens who illegally enter the United States and those who overstay or otherwise violate the terms of their visas present a significant threat to national security and public safety." This reflects a significant change in the official government attitude toward immigrants.
The Obama administration focused on locating and deporting violent criminals, hence the "Stays of Removal" that Rosa had to regularly appear and apply for during the last five years. Now, although the current administration talks only about criminals, their immigration policies apply equally to anyone who is undocumented. All undocumented residents are now equally likely to be apprehended and processed for deportation. People like Rosa and the "Dreamers" (young adults who were brought into the country as children) are easy pickings: They've made themselves known to the authorities!
In May 2017, when Kain-Rios filed Rosa's seventh Application for Stay of Removal, the application was denied. The attorney then advised Rosa that she would be detained if she showed up for her next scheduled appointment with ICE in June.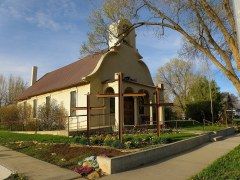 In November 2016, Mancos United Methodist Church joined the Reconciling Ministries Network of Methodist Congregations. According to the network's vision statement, "As committed disciples of Jesus Christ, the Reconciling Ministries Network strives to transform the world by living out the Gospel's teachings of grace, love, justice and inclusion for all of God's children." In January 2017, Pastor Craig Paschal, who has served the Mancos congregation for more than a decade, learned that people in his community were subject to removal by ICE – people whose families and jobs would be disrupted if they were taken into custody and deported. Craig then attended a Compañeros workshop on immigrant rights. Afterward, he posed these questions to his congregation: What does it really mean to "love thy neighbor"? Can we call ourselves a church if we don't love our neighbors?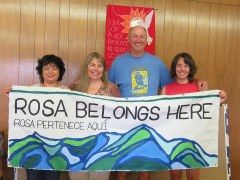 Shortly after Rosa learned that ICE would likely detain her if she kept her next appointment with them, an acquaintance told her about the declaration that the Methodist Church had made. Rosa wrote a letter to Pastor Paschal, and the congregation agreed to accept her request. Rosa entered sanctuary in the Mancos United Methodist Church on June 2, 2017.
Rosa will have been in sanctuary for 213 days by the end of 2017, and her lawyer predicts she will need to remain there through 2018 as well. Her supporters are working on solutions that might grant her liberty sooner. For example, Pastor Craig visited Congress on her behalf. The congressional delegation that represents Mancos has been supportive of a Private Bill for Rosa – a congressional act that would grant her lawful permanent residence – but chances are slim it will pass both houses of Congress.
Rosa and the Mancos Methodists have gotten support from the American Friends Service Committee, through the work of Jennifer Piper, AFSC's Interfaith Organizing Director for Immigrant Rights in Denver. Jennifer provides support to the growing number of immigrants living in sanctuary around Colorado, and she led a caravan of sanctuary supporters to Mancos in mid-October.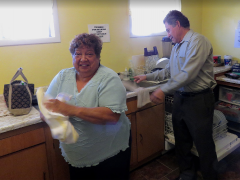 A women's community singing group changed its meeting location to the church so that Rosa could participate with them. The church has held several fund-raising events to support her. Volunteers have created a website to publicize Rosa's plight and to generate more support (https://www.rosabelongshere.org/). The site now includes a "dollar-a-day" fund-raising pledge to help sustain Rosa in sanctuary.
Rosa says she would like to have "the freedom to choose where I want to live." She has always "wanted to follow all the rules and live in this country, not be in hiding."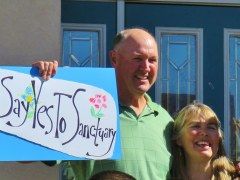 Rosa mentions that also. "I was thinking of how private my life was, and how public it is now." She worries, too. She worries about no longer being able to care for her mother, who is not well. Rosa has had some health issues herself, and if she had to be transported to a hospital, she could be detained by ICE, something that has already happened to others. It is "challenging, very challenging," she says. Challenging to "my patience, my faith, my hope as well."
Even so, Rosa remains positive. "God is on my side," she says. "I truly believe that President Trump has a heart, and he needs to hear my story. . . I'm not against anyone. I'm just trying to be part of this country."
Rosa's story is one of many. But she is not a number. Rosa is a person with joys and sorrows, who loves her family and her community, who loves her dogs and the birds she used to feed in her yard. Rosa is fortunate to live in a community that provides her with sanctuary; but even so, she is in captivity. She wants nothing more than to be free – to be free to work, to contribute, and to be a good neighbor.  ~~~
Sandy Feutz and Tom Vaughan are photographers whose work can be seen at fevafotos.blogspot.com. They have worked in radio (Sandy) and newspaper publishing (Tom), and are active with the local Kiwanis club. They attend Gila Friends Meeting in Silver City, CO (IMYM).