In 1966, the small Quaker meeting in Santa Fe, New Mexico, was bequeathed its current home, the historic house and garden of the painter Olive Rush. It is already an unlikely occurrence for a Quaker meeting to have a patron, and even more so, for the benefactor to be an artist, given Friends' long history of disparaging the arts as frivolous and vain. Thus, Santa Fe Meeting's relationship with our "patron" is unique and has been a source of pride, as well as of controversy.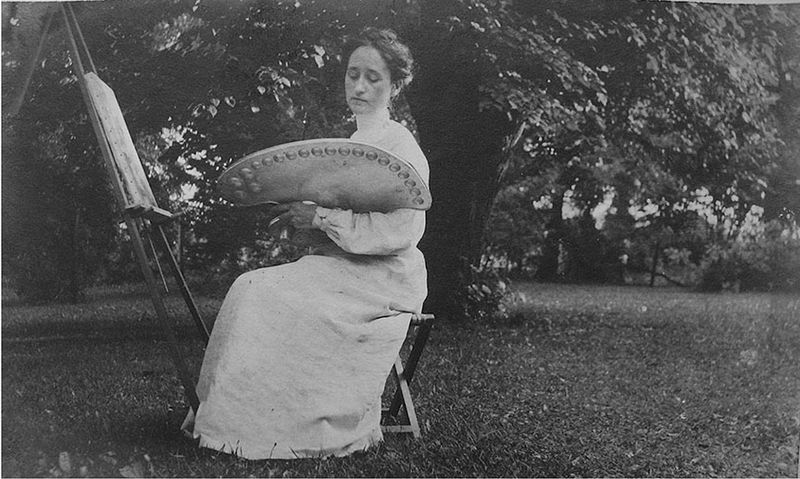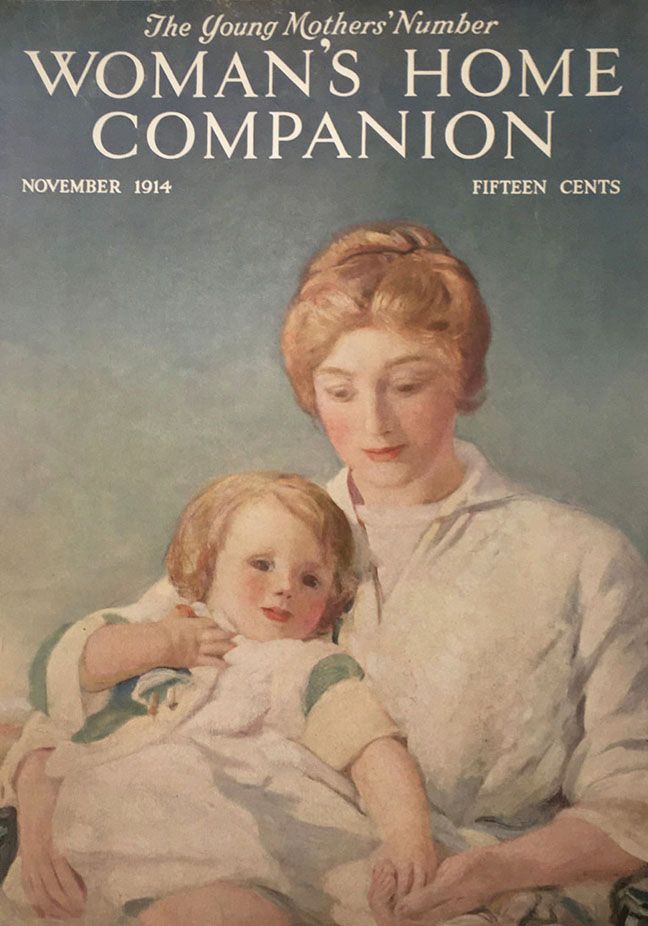 This year, 2020, marks the 100th anniversary of Olive Rush's arrival in Santa Fe. It is also a critical moment in the development of the Quaker meeting that she helped found, as we struggle to integrate our current spiritual and space needs with the responsibility of maintaining a significant historic property. This is an appropriate time to acknowledge both what this pioneering artist contributed to her Southwestern community and the difficult challenges that Santa Fe Meeting now faces in honoring Rush's wishes to preserve the property
she donated.
Born in 1873 on an Indiana farm called Rush Hill, Olive was one of seven children of the Quaker minister Nixon Rush and his wife Louisa Winslow. Olive showed a gift for drawing at an early age and was encouraged by her parents. Apparently, they had their own artistic interests, but those had been discouraged, due to the negative Quaker attitude towards artists, which endured in their generation.
Olive received a strong education at a local Quaker academy, which stood on land donated by her family, and at seventeen, she left home to study art and history at Earlham College in nearby Richmond, Indiana. By 1890, she had studied in several art programs, including the Corcoran School of Art in Washington, D.C., the Pennsylvania Academy of Art, the Art Students League in New York, and the Boston Museum School.
By the age of thirty, Rush had established a successful career as an illustrator in New York, working on various publications, including children's books and women's magazines of the day. She made two trips to Europe to study with painters and to witness first-hand the modern art movement germinating there. While in the U.S., she studied with renowned illustrator and Quaker mentor, Howard Pyle, in Wilmington, Delaware, and she shared studio space there with her life-long friend and fellow painter, Ethel Pennewill Brown.
In 1914, Olive accompanied her father as he made a missionary trip to Arizona and New Mexico. With his encouragement, she painted as they traveled. Apparently, her father also painted, as a small painting done by Nixon Rush during this trip was found in Santa Fe Meeting's Olive Rush Collection. At the end of her first venture into the West, Olive was invited to show her paintings in a one-woman exhibit at the Palace of the Governors in Santa Fe.
Inspired by memories of the beauty and drama of the Southwest from her first visit, Rush returned to New Mexico in 1920 and became "the first important American woman artist to settle in Santa Fe" (Cuba, 1992, p. 45). With savings and a small inheritance from her parents, Rush purchased an old Hispanic farmhouse on Canyon Road, which was to become the center of a burgeoning art colony. Once established in Santa Fe, Rush entered a new world of inspiring influences, described here in her words, "Artists are spiritual adventurers and the strange beauty of the Southwest country, splendid and generous, lyric at one turn, dramatic at another, invites us to dare all things. Compositions are marvelously made before our eyes, offering lesson after lesson in form and color," (from a 1925 exhibition catalog cited by Cuba, 1992, p. 43).
Olive Rush was a true pioneer, not merely for her inspired trek West to the newly recognized state of New Mexico, but also for what she was able to achieve during her forty years of residence here. It was a time when many considered this high desert destination a "wild territory," and Rush arrived alone, a single woman of forty-seven, a self-supporting artist from a modest Quaker background. She brought with her an open and inquisitive attitude, and a hardiness developed through education, travel, and exposure to modern values. Sometimes misrepresented as a "retiring spinster," Olive Rush was in fact one of the "New Women" of her time: a Suffragette, an adventurer, a teacher, and a risk-taker, seeking a more expansive life as a free woman than would have been customary under the social strictures of the Midwest and the East Coast at that time. She joined with many other free-spirited and courageous female transplants to the Southwest, exploring new possibilities, relationships, forms of activism, and creative expression.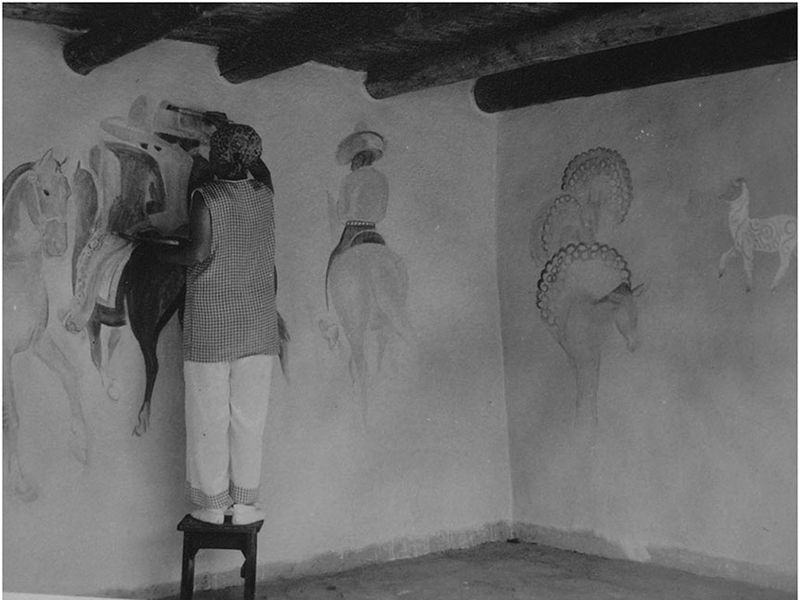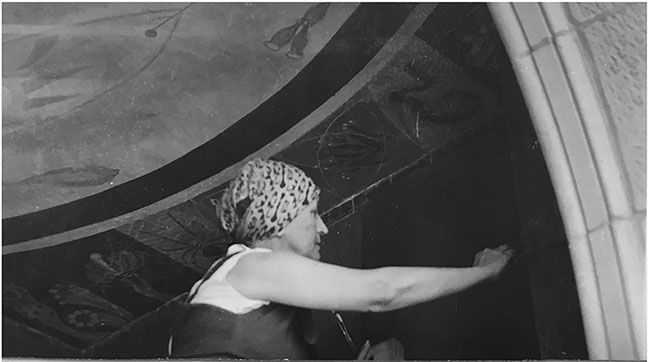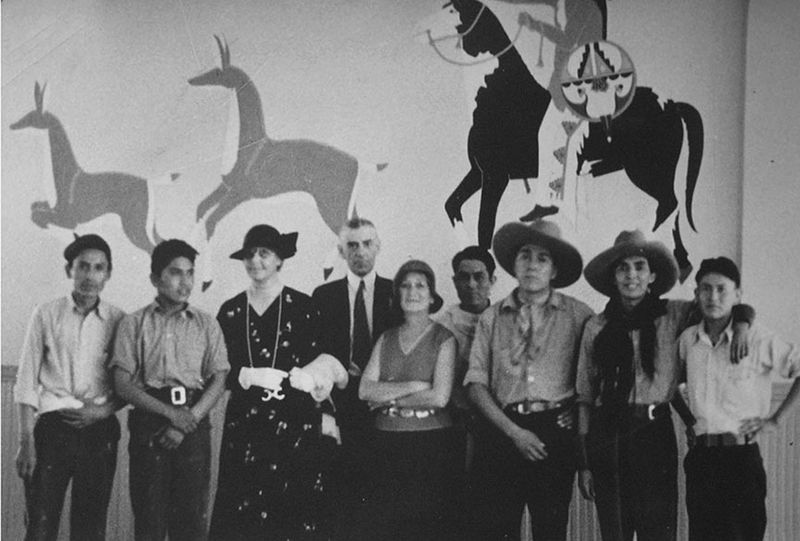 Local Pueblo Indians, Hispanic neighbors, and cowboys from surrounding ranches found warm encouragement, welcome support, and sometimes a place to stay at Rush's studio on Canyon Road. This "ministry of hospitality" was generously offered to fellow women artists, young Quakers traveling across country, and family members. The Olive Rush Studio provided refuge for many. Throughout her life, Rush held a moral commitment to aid the needy, the disenfranchised, and socially neglected. Her advocacy included marching for women's rights, promoting social activism in her classes for art students in Nebraska, joining local groups in the defense of Native Americans' rights to practice their cultural traditions, and in the 1940s, volunteering on relief projects for refugees after World War II.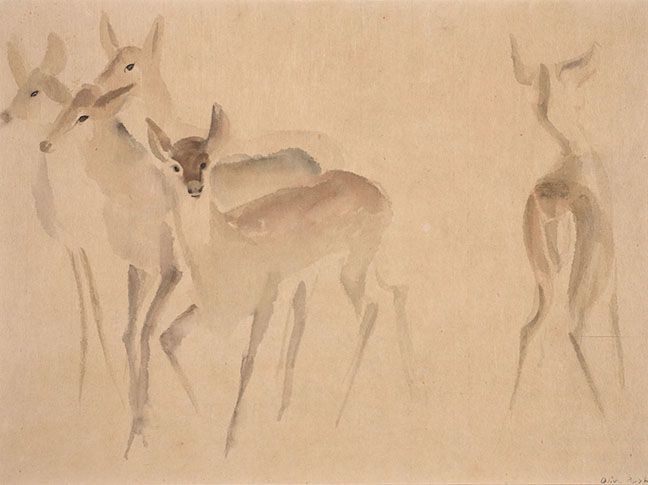 "The task of the artist . . . [is to] explore in his own way the spiritual possibilities of his art. Until he does that, he is guilty, along with the man in the parable, of 'misuse of talents the landlord has given him,'" (Santa Fe New Mexican, January 19, 1945, p. 5).
"I believe that all art should carry without effort 'the outward signs of an inward grace.' You must learn your own best way of living and creating. You are an individual in art as in life," (Santa Fe New Mexican, January, 19, 1948).
"As you enter into a work, it will speak to you . . . and you will know that beauty lies not in prettiness, nor in any trivial thing, and that art is religion's fair and radiant sister," (1922 quotation by Rush, cited by Cuba, 1992, p. 47)
"For Rush, art could not be separated from how one lived one's life, and likewise no aspect of life could be separated from her spirituality; thus, her studio and place of worship became one," (Gish, 1994, p. 4). Today, the Olive Rush residence is the meetinghouse for Santa Fe Friends. The interior retains the feeling of a private home, with built-in features and cabinets from its earlier owner's time and a lingering sense of calm, which comforts many long-time attenders and visitors. Housed in the old adobe building is a range of original furnishings, Native American and Hispanic artifacts, personal memorabilia, and a variety of finished paintings and sketches by Rush. These, along with archival records, form the Olive Rush Collection. The combination of the historic structure, its forty years of use by the artist, and remains of the home's original contents have come to embody a unique remembrance of a life and a period of Santa Fe history.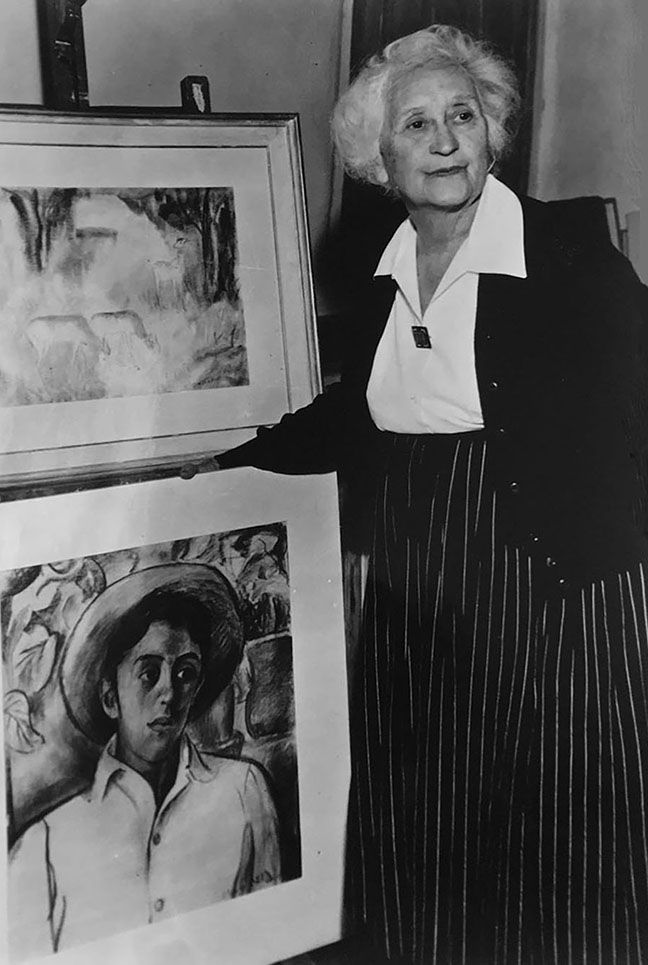 Rush's original painting studio now serves as our worship room. It can feel crowded with more than three dozen people gathered there at 11 AM on a Sunday morning. While the age and intimacy of the facility offer a comfortable "spiritual space" to many members and attenders, others find the facilities over-crowded, inconvenient, and ill-adapted for growth of our community, and incompatible with contemporary use by First Day children. The meeting has struggled with these concerns for many years, with no clear resolution. At this time, Santa Fe Friends are considering building a new worship space at the back of Olive Rush's famed garden, a concept that also prompts some concern. Many issues about construction cost, design, and use of space remain unanswered, while the work of documentation, storage, and care of the Olive Rush Collection will require a serious investment of effort and funds.
It is uncertain whether our Quaker meeting can meet our own space needs and serve our spiritual priorities while bearing the weighty responsibility for preserving an historic and artistic legacy. Both functions are valuable, and perhaps they are compatible on the same property. Hopefully, a creative solution will emerge through the discernment that is on-going in Santa Fe Monthly Meeting.  ~~~
Bettina Raphael grew up in Pasadena's Orange Grove Meeting and joined Santa Fe Monthly Meeting (IMYM) the early 2000s. A conservator of art and artifacts for thirty years, the Rush Studio and Collection have become for Raphael a compelling focus of interest.
Sources
Cuba, Stanley L., Olive Rush: A Hoosier Artist in New Mexico, Minnetrista Cultural Foundation, Inc., Muncie, IN, 1992.
Gilmore, Jann Haynes., Olive Rush: Finding Her Place in the Santa Fe Art Colony, Museum of New Mexico Press, Santa Fe, N.M., 2016.
Gish, Carol, "Olive Rush: Spiritual Adventurer in the Southwest," a paper written for the course, "New Mexican Art and the Mainstreams at the University of New Mexico," November, 1994.
Guest, Grace Dunham, "Olive Rush, Painter," New Mexico Quarterly, Vol. 21, No. 4, 1951.
Santa Fe New Mexican, "Successes of Past Can't Be Copied Forever, Says Miss Rush," January 19, 1945.
Santa Fe New Mexican, "Thetford Le Viness Writes of Olive Rush in Kansas City Times," January, 19, 1948.
Images
Page 10: Magazine cover illustration by Olive Rush, 1914; Rush painting in the garden of her family's farm, Rush Hill, circa 1900
Page 11: Olive Rush painting a mural of Hispanic horsemen at the home of Florence Bartlett, outside Santa Fe, New Mexico, 1934
Page 12: Completion ceremony for mural project at the Santa Fe Indian School, student painters with their instructore Olive Rush in the center, 1929
Page 13: Olive Rush working on a fresco painting in the dome of the Biology Building at New Mexico State University, Las Cruces,1936; "Young Deer," watercolor on paper by Olive Rush, circa 1940