Faith and Practice: North Pacific Yearly Meeting
Authored by:
North Pacific Yearly Meeting
For special pricing on orders of ten or more, please inquire via "Contact Us" button in the footer of this website.
This third edition of NPYM's Faith and Practice reflects the growing experience of NPYM Friends, who seek to follow the Inner Light. The intent of the book is to be descriptive, not prescriptive. While the book is still intended as a reference for "What do we do when . . ." it offers a range of possibilities for different Quaker meetings that have different practices around given issues.
Year of publication: 2018
Available as an eBook from Amazon, Barnes & Noble, and Kobo.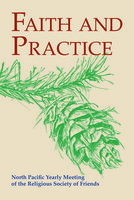 Price: $18.00