Faith and Practice: Intermountain Yearly Meeting
Authored by:
Intermountain Yearly Meeting
For special pricing on orders of ten or more, please inquire via "Contact Us" button in the footer of this website.
Friends have faith that the direct and unmediated experience of the Divine is available to everyone. That which Quakers call the inward Light lives in each human being. Faith is inseparable from practice. This book of Faith and Practice, published in 2009, is a reference and guide to Friends, who are encouraged to assume personal responsibility for making their lives give active and living witness to their faith.
Year of publication: 2016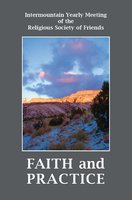 Price: $15.00